Posts for tag: tmj disorders
By Grain Valley Family Dental
November 24, 2019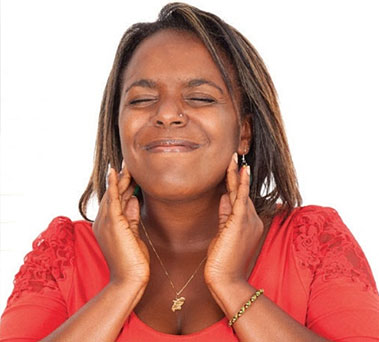 Fibromyalgia is a chronic condition that produces widespread pain and stiffness in the muscles and joints. The pain, muscle spasms and tingling it causes can disrupt sleep, alter moods and impair memory function.
Dealing with just this one condition can be overwhelming. But did you know 3 out 4 fibromyalgia patients also develop chronic pain and dysfunction involving their jaw joints? Known collectively as temporomandibular joint disorders (TMD), these jaw joint problems cause pain, muscle spasms and difficulty moving the jaws that can interfere with eating and speaking. TMD can also contribute to headaches and earaches.
Many researchers believe this prevalence of TMD among fibromyalgia patients stems from both conditions originating from the same primary cause—a malfunction within the central nervous system. In both cases, the brain and spinal cord may not be able to process pain signals in a normal fashion. This malfunction could also be generating and amplifying pain signals even when nerves are receiving no stimulation.
For decades now, the most effective treatment strategy for TMD has been to manage the symptoms with physical therapy and exercises, thermal therapy or medications. Relief for fibromyalgia has depended on medication and relaxation techniques like biofeedback therapy. But with the evidence of some connection between the two conditions, it may be helpful to coordinate treatment for both with a team approach involving all your healthcare providers, rather than treat them separately.
To that end, make sure both your dentist or physician treating you for TMD and your physician treating your fibromyalgia each know about the other condition. Consulting together, your healthcare team may find treatments (like certain drugs that counteract neurotransmitter imbalances) that might help reduce symptoms in both conditions. And cognitive-behavioral therapy, meditation and other therapeutic pain management techniques can help you cope with the pain.
Continued research into these two debilitating conditions and the possible links between them may have an effect on how we treat both. A holistic approach to treating them could be the wave of the future.
If you would like more information on the links between TMD and other chronic pain conditions, please contact us or schedule an appointment for a consultation. You can also learn more about this topic by reading the Dear Doctor magazine article "Fibromyalgia and Temporomandibular Disorders."
By Grain Valley Family Dental
July 07, 2019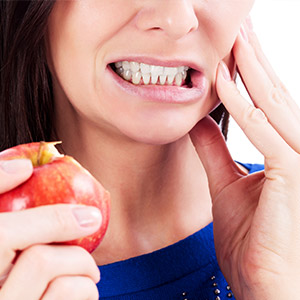 Because it requires jaw movement, eating can be difficult and painful if you have a temporomandibular joint disorder (TMD). During flareups you may switch to foods that are easier to eat but may be less nutritious than those you're giving up.
But there are ways to keep healthier foods in your diet while minimizing TMD discomfort. In many cases, it's a matter of preparing your food differently. Here are a variety of food groups known for their nutritional value and what you can do to prepare them for easier eating with TMD.
Fruits and Vegetables. You should peel any fruits or vegetables with hard or chewy skin like apples, peaches or cucumbers. Try chopping or pureeing fruits and vegetables you can eat raw to reduce their size and make them easier to chew. Vegetables like carrots, potatoes, broccoli or cauliflower can be cooked, then chopped or mashed.
Legumes and nuts. Pod-based vegetables like beans or peas provide a number of nutritional elements, as do nuts with their healthy fats. Your motto with these foods should be "Not too large and not too hard." Be sure then to cook, mash or puree legumes that are larger than a pea. With nuts, try nut butters for a softer serving than eating them out of the shell.
Protein and Dairy. Any meats like poultry or beef should be cut into bite-sized pieces; you can also moisten them with broths, gravies or sauces for easier chewing, or braise or stew them in liquid to tenderize them. You can also consume most milk, yogurt or cheese products you can tolerate. If you can't, try alternatives like meal replacement or whey protein beverages.
Grains. Prepare grains by cooking them until they're softened. Hot cereals like oatmeal offer a lot of nutrition and they're relatively easy to eat. Toast your bread and cut the slice into smaller pieces to minimize jaw movement.
One last tip: take your time while eating. A slower rate not only helps you enjoy your food more, it reduces the amount of work your jaws perform while eating. Less jaw work can help further ease the discomfort of TMD.
If you would like more information on how to relieve TMD pain and dysfunction, please contact us or schedule an appointment for a consultation. You can also learn more about this topic by reading the Dear Doctor magazine article "What to Eat When TMJ Pain Flares Up."
By Hanneman & Ward, DDS
May 31, 2016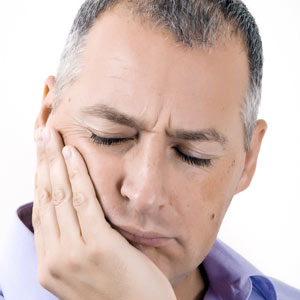 It's estimated that between 10 and 40 million adults in the U.S. suffer from chronic jaw pain and disability. Healthcare providers refer to it as temporomandibular joint disorder (TMJD), a group of conditions characterized by pain and limited function with the jaw joints, as well as related muscles and tissues.
People with TMJD often experience popping, clicking or grating sounds when they move their lower jaw. The more serious symptoms, however, are severe pain and limited movement of the jaw. The causes of TMJD haven't been fully substantiated, but it's believed to be influenced by a person's genetic background, their gender (most patients are women of childbearing age), their environment and behavioral habits. This uncertainty about the underlying causes has made it difficult to improve treatment strategies for the disorder.
One promising area of research, though, is suspected connections between TMJD and other health problems. In one survey of over 1,500 TMJD patients, nearly two-thirds indicated they had three or more other chronic conditions. Among the most frequently named were fibromyalgia, chronic fatigue syndrome, rheumatoid arthritis, and sleep disturbances.
We're not quite sure how or why TMJD might be linked to these other conditions, but further study is underway. Researchers hope any knowledge uncovered could lead to advances in our ability to diagnose, treat and prevent TMJD.
Until then, the more traditional treatment approach remains the best course of action: medication to relax muscles and relieve pain; thermal therapies using hot and cold compresses during flare-ups; and physical therapy. Switching to softer foods temporarily may also give jaw muscles a rest from over-activity. Although jaw surgery is an option, we should consider it a last resort after other therapies have proven altogether ineffective in relieving pain and restoring function.
If you suspect you have TMJD, please visit a medical doctor first. Other conditions could mimic the symptoms of the disorder and would need to be ruled out first. If the diagnosis is TMJD, you're not alone. You can receive information, support and updates on the latest research by visiting the TMJ Association at www.tmj.org.
If you would like more information on chronic jaw pain, please contact us or schedule an appointment for a consultation. You can also learn more about this topic by reading the Dear Doctor magazine article "Chronic Jaw Pain and Associated Conditions."