Posts for tag: root canal treatment
By Grain Valley Family Dental
July 31, 2020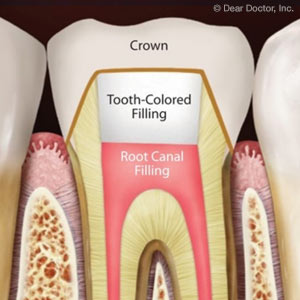 It's not an exaggeration to say the modern root canal treatment has saved millions of teeth over the last century. Without this procedure, there's not a lot we can do to stop advanced tooth decay from infecting and destroying a tooth.
What's more, a root canal treatment could extend the life of a tooth for decades. Notice we said could—although most root canals do have satisfactory outcomes, there's still a chance a tooth may become re-infected. Here are 3 possible causes for an unsuccessful root canal treatment, and what you can do to lessen their impact.
The severity of the infection. Tooth decay usually begins at the enamel layer, softened by the acid produced by bacteria. Untreated, the infection can then spread through the next tooth layer of dentin until finally infecting the innermost pulp. From there the infection can move through the root canals to the bone, dramatically increasing the danger to the tooth. Root canal treatments have a higher chance of success the earlier they're performed in the disease progression, so see your dentist at the first sign of pain or other tooth abnormality.
The root canal network. An effective root canal procedure eliminates all dead or diseased tissue in both the pulp chamber and the root canals (these are then filled to prevent future infection). But this may prove difficult with teeth that have intricate root canal networks because of a higher risk of overlooking some of the canals. It may be best in such cases for an endodontist, a specialist in treating interior tooth issues, to perform the procedure using their advanced techniques and microscopic equipment.
The age of the tooth. Root canal treatment can weaken a tooth's structural integrity, especially with older teeth. This can make them more susceptible to fracture and a higher chance of infection. We can avoid this outcome by placing crowns on root-canaled teeth: The crown provides structural strength to the tooth and can add further protection against infection. Older teeth may also benefit from the placement of a small support post within it to further add stability before applying the crown.
If you would like more information on root canal treatment, please contact us or schedule an appointment for a consultation. You can also learn more about this topic by reading the Dear Doctor magazine article "Root Canal Treatment: How Long Will It last?"
By Grain Valley Family Dental
March 03, 2020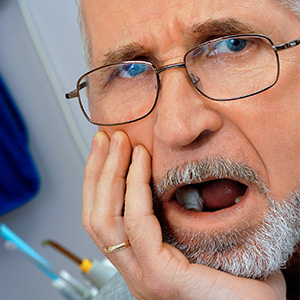 Your tooth is in peril if its innermost layer, the pulp, becomes infected and inflamed. Deep tooth decay, repeated dental procedures or fractures can all expose the pulp and ultimately the roots to infection and lead to tooth loss.
But that scenario isn't inevitable — we can often save the tooth with a root canal treatment. By accessing the tooth's interior through a prepared hole, we're able to clean out the infected tissue in the pulp chamber and root canals, and fill the empty space with a special filling. We then cap the tooth with a custom crown to protect it from a re-infection.
Root canal treatments have a very high success rate — chances are good your tooth will survive for many years afterward. But there's a slight chance the tooth may become re-infected; in that case, a second root canal treatment may be in order.
In a few cases, though, a second root canal may not be advisable, and could even accelerate damage to the tooth. For example, if past dental work resulted in an extensive crown restoration, accessing the root canals the conventional way will require disassembling that restoration. This could weaken the tooth significantly.
We can approach the problem from a different route: instead of accessing the tooth's interior through the crown (the visible part of the tooth), we instead perform a surgical procedure called an apicoectomy, which accesses the tooth at the root end through the gums.
In this procedure we numb the area with local anesthesia and then make a small incision through the gums at the level of the affected root. After access, we remove any diseased tissue around the root and a few millimeters of the root tip itself. We then insert a small filling in its place to seal the canal and prevent further infection. In some cases we may also insert a graft to encourage bone growth and aid in healing.
Over time, the affected area will heal and return to normal function. Even if a traditional root canal treatment can't be used, an apicoectomy could be another option for saving your tooth.
If you would like more information on your options for preserving a problem tooth, please contact us or schedule an appointment for a consultation. You can also learn more about this topic by reading the Dear Doctor magazine article "Apicoectomy."
By Grain Valley Family Dental
September 05, 2019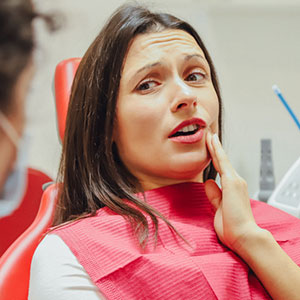 You depend on your family dentist for most of your oral care. There are some situations, though, that are best handled by a specialist. If you or a family member has a deeply decayed tooth, for example, it might be in your long-term interest to see an endodontist.
From the Greek words, endo ("within") and odont ("tooth"), endodontics focuses on dental care involving a tooth's interior layers, including the pulp, root canals and roots. While general dentists can treat many endodontic problems, an endodontist has the advanced equipment and techniques to handle more complex cases.
The majority of an endodontist's work involves teeth inwardly affected by tooth decay. The infection has moved beyond the initial cavity created in the enamel and dentin layers and advanced into the pulp and root canals. The roots and underlying bone are in danger of infection, which can endanger the tooth's survival.
The most common treatment is root canal therapy, in which all of the infected tissue is removed from the pulp and root canals. Afterward, the empty spaces are filled and the tooth is sealed and crowned to prevent future infection. General dentists can perform this treatment, primarily with teeth having a single root and less intricate root canal networks. But teeth with multiple roots are a more challenging root canal procedure.
Teeth with multiple roots may have several root canals needing treatment, many of which can be quite small. An endodontist uses a surgical microscope and other specialized equipment, as well as advanced techniques, to ensure all of these inner passageways are disinfected and filled. Additionally, an endodontist is often preferred for previously root-canaled teeth that have been re-infected or conditions that can't be addressed by a traditional root canal procedure.
While your dentist may refer you to an endodontist for a problem tooth, you don't have to wait. You can make an appointment if you think your condition warrants it. Check out the American Association of Endodontists webpage www.aae.org/find for a list of endodontists in your area.
Advanced tooth decay can put your dental health at risk. But an endodontist might be the best choice to overcome that threat and save your tooth.
If you would like more information on endodontic dentistry, please contact us or schedule an appointment for a consultation. You can also learn more about this topic by reading the Dear Doctor magazine article "Why See an Endodontist?"